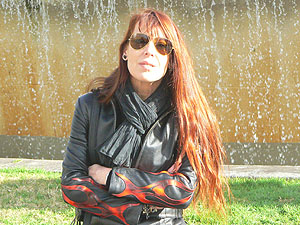 Muriel Ryckewaert, a unique being who has a unique outlook on the world around her. The strength that emanates from her artwoeks works touches by his spontaneity, his originality, and his technique.
« The colors speak to me, the lines appear, the rest is just a succession of emotions, lights, heartbeats guided by inner music. Sometimes it is a real symphony. »
Technique at the service of creation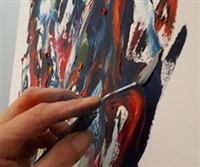 The painter experiments with various techniques, sometimes borders on impressionism, plays with pointillism in a contemporary art of her own, where imaginary beings appear at the bend of a glance and disappear. She constructs and deconstructs, in order to obtain this balance of lines and colors.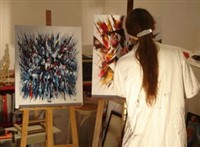 « In my reality, nothing is taken for granted, everything is suggested, it's up to you! »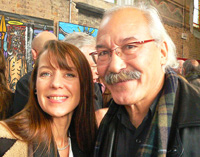 And it's up to you to hear her inner music because it is the music that takes her and her hand follows the movement.
From brush to knife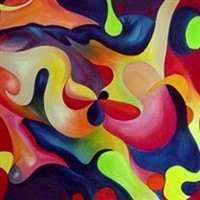 The artist's choice instinctively falls on oil, rather than acrylic.
Her first works, true festivals of color and gradation, will emerge with the brush, as a musical and orgasmic approach to color. The powerful interweaving of brush and oil reassures her and sets the tone.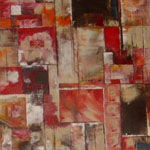 This technique quickly becomes too noisy and haunting in her eyes, she now apprehends the material with a knife as if to exorcise the beautiful and leave room for pure emotion and the primitive side.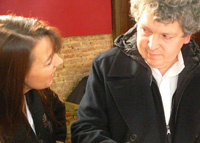 « I transform everything I touch. »
A fertile imagination from childhood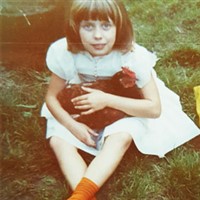 Left-handed and only child born into a family of artists in Wormhout in French Flanders on May 6, 1963, to a concert pianist and teacher mother and a cabinetmaker and carpenter father. Her mother shows her the way to art and culture. Her father, an ingenious craftsman, gave her a taste for the material.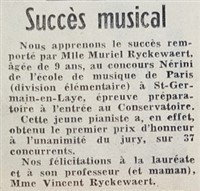 Her mother taught her the piano at the age of four. Very young, she won several 1st prizes at the Nérini competition in Paris. She is passionate about prehistory, ancient Egypt, music, nature and animals and immerses herself in this culture through books and museums. As a child, she spends her time drawing, creating, sometimes abandoning what does not interest her. She has fun carving wood in her father's workshop. She transforms everything she touches.
Her artistic personality is already defined.
Art as a matter of course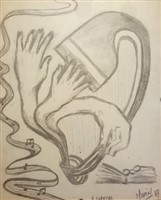 With a vivid imagination, she uses her free time to paint. Her nursery was transformed into a studio where she painted her first paintings. At fourteen, she left her parents to devote herself to artistic studies in Lille, where she still lives today. Her need for freedom and discovery are finally satisfied.
Being a painter becomes vital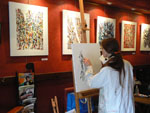 The year 1999 is a real renaissance. After raising three children, she finally devotes all her time to painting. The artist multiplies the exhibitions and meets a lot of success and recognition.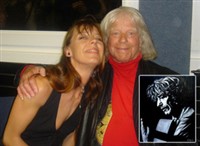 She lives again: day and night, hands in oil, nothing exists. Abstraction becomes for her the means of putting words on her canvases, colors take hold of her life. She lays down her story and her emotions in a frantic pace, with that part of mystery that is specific to her. For fun and for her friends, she will also do some portraits.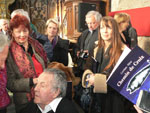 The painter finally finds her fourteen years, her dreams. Today his keyboard has become his knife.
At the helm of a rock bar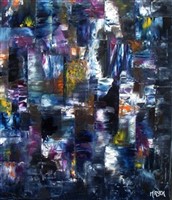 Since 2010 she and her husband have been at the head of a rock bar in Lille which bears the name of one of his works, which itself bears the name of a Deep Purple track: Black Night. Evenings follow one after another and free time diminishes, but not his creativity. Every moment spent in the workshop becomes vital.
And now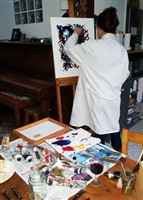 In 2020, the constraints of the health crisis give her the perfect opportunity to immerse herself body and soul in the work of her life: her painting.
« Every canvas is a page in a book that can't be turned back, and every book is different. »
© 2023 Muriel Ryckewaert - All rights reserved / Tous droits réservés